Table and function: that is the core of Pöttker. That's where we come from. That's where our know-how comes from - from working with our customers, for over 50 years in furniture production and for over 30 years in the production of tables. From this collaboration, we have developed a unique modular system for diverse, freely combinable table functions. Design and materiality of the table are not decisive here. We offer solutions for solid wood, veneer, MDF, HPL, ceramic, marble, stone, glass, etc. With our extensive range of accessories, we provide you with the entire functional package from a single source.
Represented in 40 markets worldwide
At four locations, our experienced team of developers and designers will design a perfectly fitting functional concept for your table. Furthermore, the Pöttker Group is represented in over 40 markets worldwide. Our modern production facilities guarantee consistent, top quality in every price segment. We are constantly working on improvements and on the implementation of new concepts.
In your name and according to your stipulations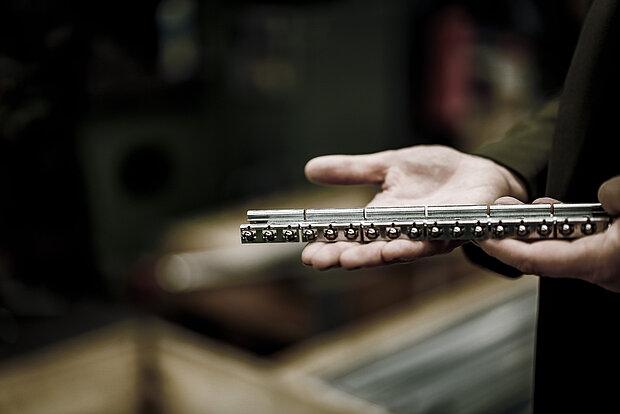 Our many years of experience with complex processes in the areas of construction and logistics of table concepts are a guarantee for successful cooperation with our customers, from small to large series. Our spectrum ranges from table extensions, whether as sliding extensions, ball bearing extensions incl. ball cages, roller extensions incl. runner carriages or roller extensions, frame constructions, table racks with supplied table leaves, to complete tables. We configure, produce, pack and ship your order on your behalf and according to your specifications - on commission on pallets or as individual packaging units. This is our service offer for all frames, racks and tables for series orders. We will be happy to realize your project as well.
In order to offer you the widest possible range of products, we think modularly and in different price segments. The modular principle is the basis of our thinking. We offer complete concepts at all levels. Starting from steel extensions, fittings and frames in larger quantities, up to the high-class aluminum system in special anodized shades, we have the solution ready. For everything in between, we offer design-oriented products in various designs.